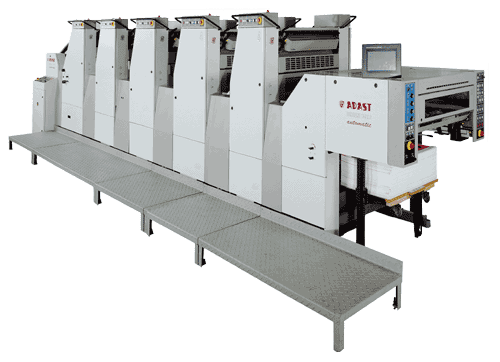 For the highest quality printed pieces, lithographic offset presses are the usually the best choice. Technology has developed to the point of computer-to-plate systems delivering very high accuracy and quality. Combined with Mountain States Lithographing's decades of expertise make us a winning combination making your printed materials consistently look their best.We are proud of our state and the quality of life we share here, that is why we go the extra mile and spend the time and money to make sure we are doing what we can to protect our environment. Starting with the elimination of many of the harsh chemicals associated with printing and replacing them with more environmentally-friendly products.
Mountain States Lithographing employs direct-to-plate technology, eliminating the need for film and the chemistry associated with film for many of our printing presses and projects.With a press floor that houses three 13×19 sheetfed digital printing presses, six offset perfecting presses including a high speed envelope press capable of printing 60,000 envelopes per hour and two letterpress units. We can handle all of your high quality printing needs at reasonable prices.
Partial List of our Offset Printing Equipment 
Omni-Adast 755 – 19X26 inch, five color perfector images printing plates directly from one of our many computer workstations and prints large, full color jobs that require the highest quality such as art prints, calenders…
Omni-Adast 557 – 13X19 inch, five color perfector is similar to the 755 but is slightly smaller and faster. The reason for the five color units are for printing the primary colors cyan, magenta, yellow, black, with the fifth unit available for varnish coatings or a spot color such as a metallic ink.
Halm Jet – Envelope Press is a high speed envelope press that can print 16 – two color envelopes in one second, or can print both sides of the envelope at the same time.
Heidelberg QM-46 – Quick Master 11X17 inch, 2 color perfector is a workhorse press capable of printing 150 sheets per minute used primarily for printing multipart forms, large envelopes and for printing with papers or quantities that are unsuitable for our digital presses.
Ryobi 3200 PFA – 11X17 inch press used mainly for text books because it has the ability to print both sides of a page simultaneously. This makes quick work of a text book printing 300 – 8.5X11 inch pages per minute.
Heidelberg Windmill – 10X14 inch automatic letterpress used mainly for crash numbering,  embossing and scoring. this automatic feed letterpress is the fastest available, built in the 2 decades following 1950 this machine can crush 30 sheets per minute.
More Information on the Four Color Process Printing
We are always happy to provide you with an estimate.